Mercedes-Benz A Class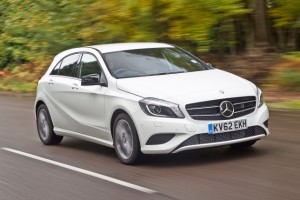 The original A-class may have followed the Audi A3 into the 1990s premium hatchback niche, but it bucked that car's thoroughly orthodox Volkswagen Group trend. With its snub-nosed, upright profile, impact-friendly 'sandwich' platform and front-wheel drive packaging, it was an ingenious, if slightly avant-garde stone cast into the segments then untested pond.
Despite high praise and well over 1.5 million sales, not all the ripples that returned to shore were welcome. There were failed elk tests and various criticisms. It was too upright, too ungainly and not sporty enough for buyers' sharpening taste buds. The A-class ended up high on expense and short on desirability
Mercedes' new A-class majors on both style and substance but lacks the originality of its forbear.
So, 15 years on, the new A-class has renounced the recipe. The all-new edition's idea of practicality has been squashed low and long and rendered lip-smackingly svelte.
Mercedes-Benz A-class design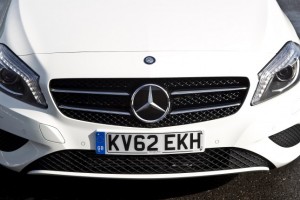 So the old A-class has gone and with it has departed packaging that bordered on the revolutionary. Instead, today's A-class mirrors the segment norm, in being a 4.3-metre-long small family car that's easier for potential buyers to understand.
The original A-class's 'sandwich' floor trademark, which neatly packaged the engine and ancillaries around or below the cabin rather than in front of or behind it, made it a brilliantly short and exceptionally spacious car. But its purpose was less clear when compared with ostensibly 'bigger' rivals such as the BMW 1-series and Audi A3, even if, inside, they were no bigger at all.
Mercedes-Benz A-class interior
Sitting low in the car's bowels, gripped by sports seats and confronted with a chiselled sports steering wheel, it's readily apparent that the A-class's development team has spent a considerable amount of time attempting to bottle its rivals' brand of high-brow hatchback appeal.
Certainly it shares MFA platform DNA with its B-class sibling (and others beyond), but the A-class's glossy, well groomed cabin feels as much a derivative of Audi-influenced market expectation as it does a creation of Mercedes' own hand.
Mercedes-Benz A-class performance and engineering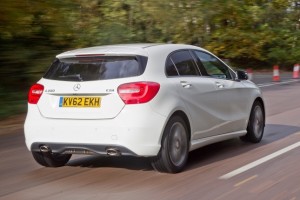 We've already run into the A200 CDI's 134bhp 1.8-litre diesel engine this year. It was a worthy unit in the new B-class and, unsurprisingly, it replicates much of that performance here. The lighter, aerodynamically slimmer A-class, equipped with the quick-shifting 7G-DCT dual-clutch automatic gearbox, cracks 60mph in 8.9sec rather than 9.4sec; it finds its way to 100mph marginally quicker, too. Significantly, the shorter sprint time puts it on a par not only with the 143bhp BMW 118d but also the all-new Audi A3 2.0 TDI.
However, draw the comparison out to 100mph and the Mercedes lags almost 2.5sec behind its closest rival. The issue here, as before, is a subtle lack of potency. A 221lb ft torque peak versus 236lb ft for the Audi and BMW may sound like an insignificant deficiency, but its imprint is felt as a faint paucity across the range. It will not upset most drivers, but it downgrades the enjoyment of pushing on – which is unfortunate given that the chassis tune positively encourages such behaviour.
Mercedes-Benz A-class ride and handling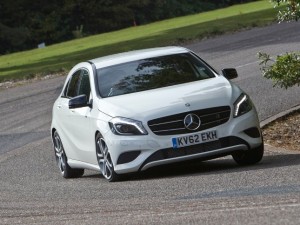 British roads bring out both the best and the worst in the new A-class. Echoing the trend for ever more 'dynamic' premium products, Mercedes has opted for spring and anti-roll bar settings that are seriously intolerant of any lingering, long-wave body movement. In doing so, it could hardly have created a more stark dynamic contrast to the preceding A-class. The new car, even rolling on the Comfort suspension of our test example, is a fresh start, and sporty with a capital 'S'.
And as long as you'd rather be driving a 300bhp hot hatch, you'll heartily approve. The immediacy and directness with which this car darts into corners and the tenacity with which it holds its line are remarkable handling traits. A 1-series seems stodgy by comparison and an A3 almost insipid. But excitement isn't everything a premium hatch needs to offer in 2012 – as Audi and BMW well understand. Refinement and high-mileage habitability are even more crucial, and those shopping for a new Mercedes might imagine they could be taken for granted.
Mercedes-Benz A-class MPG
The old A-class earned its sales spurs, but it was never the cheapest car to straddle the supermini/small hatchback divide. The latest version continues in a similar vein, and with the city car leanings banished by its longer backbone, its starting price climbs to fit broadly between the A3 and 1-series.
The A180, in an unnamed trim level beneath SE, Sport, AMG Sport and (confusingly) Engineered by AMG, is a headline-happy £18,945 and the only A-class to slip below £20,000. As it's hindered by 15in steel wheels, no one will buy it, but with Mercedes' new 1.6-litre petrol engine offering a respectable mix of efficiency and performance, it deserves wider attention.
Mercedes-Benz A-class verdict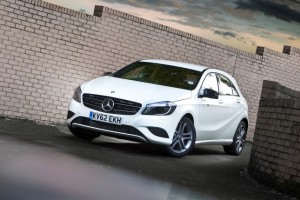 As a brand statement, this A-class was intended to herald a new dynamism for Mercedes-Benz. In several significant ways, it does. Visually, it is a sharpened arrowhead of a car; inside, it speaks to the quality and class of the badge.
These attention-getting elements are intertwined with clever, cleaner engines, great proportions and dialled-in handling to jump-start the kind of enviable allure that has been absent from small Mercedes in the past.
Mercedes-Benz A-class specs