The return of Maybach and Mercedes reviews its naming policy
Unveiling later this month at the Los Angeles and Guangzhou motor shows, the revived Maybach badge is set to feature on an "ultra-luxurious" iteration of the S-Class – as if the S-Class didn't already feature an array of luxurious extras. The new model is candidly labelled as the Mercedes-Maybach S600, and that's not the only badge change Mercedes plan to make (more on that below).
History
Owned by Daimler AG, the original luxury concept had been introduced in 1997, with a more powerful iteration later being added in 2005 that featured a powerful 600hp engine. By 2010, despite Mercedes' best efforts to push sales, the financial crises and accompanying lack of demand proved too much for the Maybach brand, and was discontinued in 2012 to make room for the much more affordable S-Class.
Return to elegant form
The form of the Mercedes-Maybach S600 resembles that of a normal S-Class (it's essentially a longer wheelbase S-Class with further height adjustments), will be available for purchase in spring 2015 with a selection of customisation options. Keeping with the S-class theme, UK vehicles will also utilise the same V12 engine from the S600.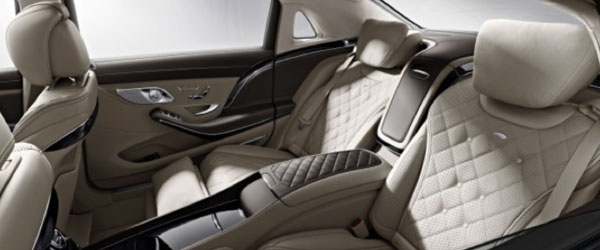 However, as mentioned by Daimlers marketing representatives "the concept of Maybach does not depend on cylinder count", but rather the exclusivity of being part of a select few whom can proudly boast ownership of the luxury sedan. It sure is luxurious, with a spacious interior and accompanying glamorous décor to rival those typically associated with Rolls Royce, with Mercedes promising to meet the requirements of even the most demanding consumer.
Badging
As previously mentioned, Mercedes plans to use the Maybach name as an indicator of quality on already established vehicles, instead of introducing another series of vehicles (of which there is clearly no need). The Maybach badge will now feature alongside AMG as another sub-brand that is entirely focused on providing the upmost luxury with future plans for implementation within SUV's.
On the topic of SUV's, Mercedes has also taken steps to simplify the nomenclature of its G and M class series. Specifically, the GL will become the GLS, with the ML becoming the GLE, and the GLK becoming the GLC from next year.